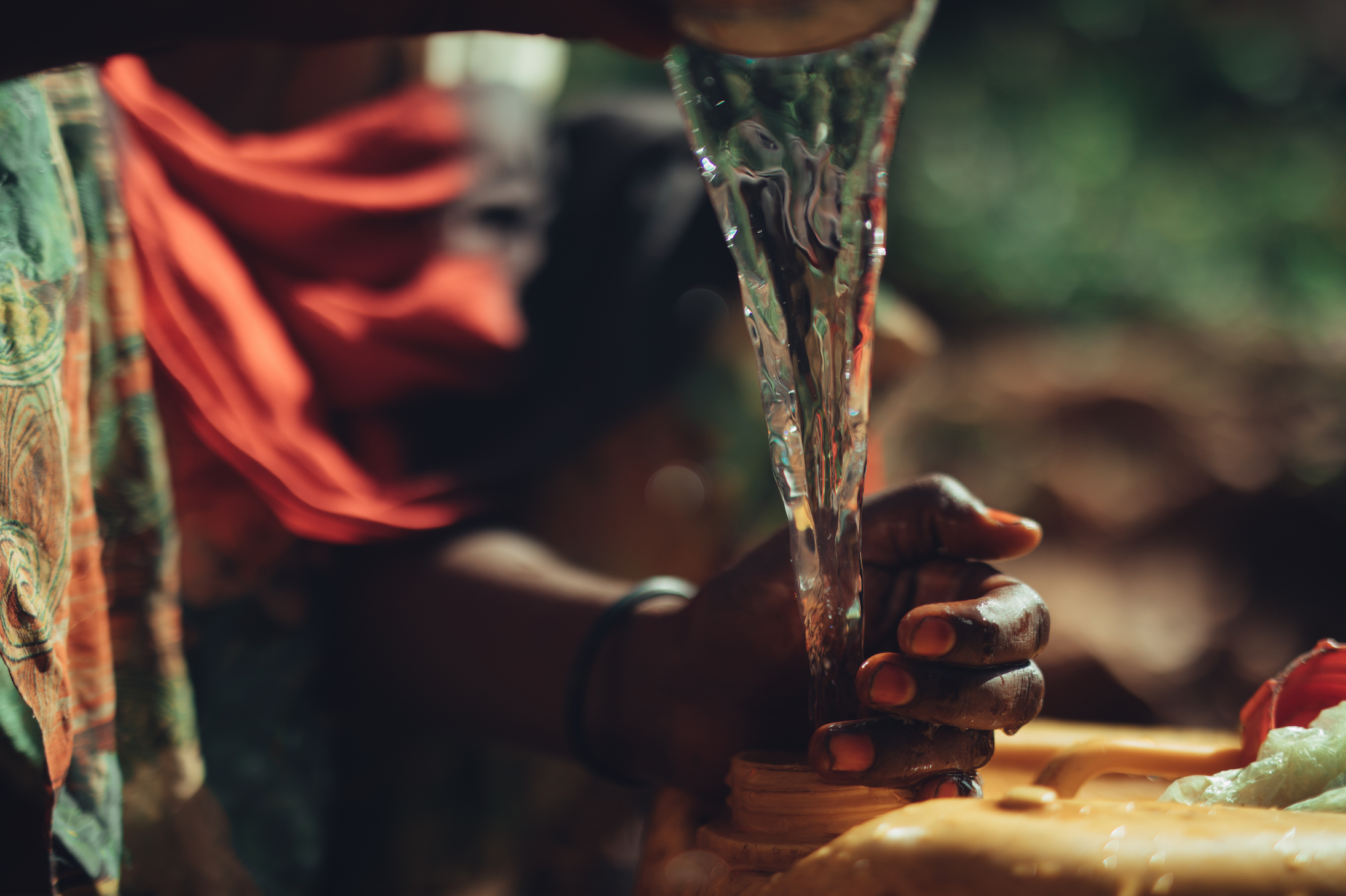 Clear thinking with charity: water
We interview Julia Anderson, VP of Brand Partnerships at charity: water, on clarifying both water and business.
Julia Anderson, VP of Brand Partnerships at charity: water talks us through their unique business model, their innovative methods and how the work they do is essential in safeguarding against the coronavirus pandemic.
How is charity: water's model different to other charities and why was it set up this way?
Giving to charity has historically been pretty opaque and has led to a lot of distrust within the nonprofit sector. charity: water set out to fix that. The first step was our unique 100% model, promising that 100% of every public donation would go straight to the field. This is made possible because of a generous group of families and corporate partners that fund all of our overhead costs—everything from staff salaries to field travel to pens and pencils. Secondly, is our commitment to proof and transparency. Once a project is complete, we provide donors with photos and GPS coordinates so they can see the impact of their generosity. And lastly, we know that in order for our work to be effective and sustainable, it has to be led by local partners and organizations on the ground. 
Why has the number of people in the world without access to clean water increased? 
Great question! We actually dedicated a whole Medium post to this back in February. In short, it is because the global water sector has increased the standards when it comes to quality of water service. The new service ladder was recently expanded to include the distance it takes to collect water, defining basic service as using an improved water source that takes 30 minutes or less to walk to and from. Time is a crucial consideration (it means women and girls can spend more time in school or starting businesses). To us, this new number of 785 million represents higher standards and greater opportunities.
What is the biggest need for rural communities after clean water?
Sanitation and hygiene are core components of our programming and imperative to the work that we do. This includes everything from the construction of latrines and handwashing stations to training on menstrual hygiene in schools. We see now more than ever during this global pandemic, the importance of hand washing as the first line of defence against coronavirus. It's saving lives and helping to keep families and communities safe.
What is the biggest challenge for charity: water?
Right now we're in the middle of weathering the COVID-19 storm and having to scale back our programmatic portfolio based on the fact that businesses, donors and everyday supporters are struggling. It's tough knowing that fewer people will likely receive clean water than we had originally planned in 2020. But I also think the pandemic has forced some of the most creative thinking yet within the organization like virtual events, new fundraising campaigns and ways for us to engage with supporters.
Is there a story from one of the projects that sticks out in your mind? 
It would have to be the story of Selam, a 13-year old girl in Ethiopia who was featured in a virtual reality film that our team produced in 2015. She takes care of her brother and sister and is also responsible for collecting water for her family, which was previously from a dirty swamp filled with dirt and leeches. Throughout the film you see how Selam's life is transformed once her community receives a well. She's able to attend school five days a week and pursue her dream of becoming a nurse. It's a really moving story, especially seen through the immersive lens of VR.
What is the most surprising thing you've learnt since working for charity: water?
I'm continually surprised and inspired by our amazing community of supporters, donors and partners. We have 3-year olds painting pictures for clean water, teams that bicycle across the country for us, couples that give up their weddings and companies big and small that have committed to our mission. It's humbling to see and motivates all of us to work harder every single day.
Is there a country you've worked with that has particularly inspired or wowed you?
I had the privilege to travel to Tigray, Ethiopia with charity: water a few years ago and it was such a formative experience. It was so powerful to hear the firsthand stories of women who had weathered sickness and loss in their family from dirty water, and now were able to dress their children in clean clothes and send them to school without worry. We also spent a lot of time with our local partner, REST (The Relief Society of Tigray) and the dedication and commitment they have towards their work is truly amazing.
Can you tell us about some of charity: water's most innovative sustainable water solutions?
One of the coolest solutions that we fund is through our local partner Clear in Cambodia, who operate the largest BioSand Filter program in the world. This simple, low-cost solution is basically a cement block that is filled with layers of gravel, coarse sand and fine sand, as well as a biological layer. The water is filtered through all of the layers and stripped of bacteria and contaminants. Clear installs roughly 22,000 BioSand Filters per year and even has their own sand production facility. It's so cool!
How long does it take to complete a water project?
Building sustainable clean water solutions take time. charity: water begins program implementation in two cycles with our local partners biannually. The total project life cycle takes 21 months from when the funds are deployed to the field to when our supporters receive their completion report with GPS coordinates.
How would you describe charity: water in three words?
Transparent, innovative, data-driven.
What do you hope to achieve in the next five years?
I hope we can continue to bring clean and safe drinking water to communities around the world. To date, we've served nearly 11.5 million people with clean water. It would be incredible to reach 20 million over the next five years!
Find out more about our partnership with charity: water 
here
.