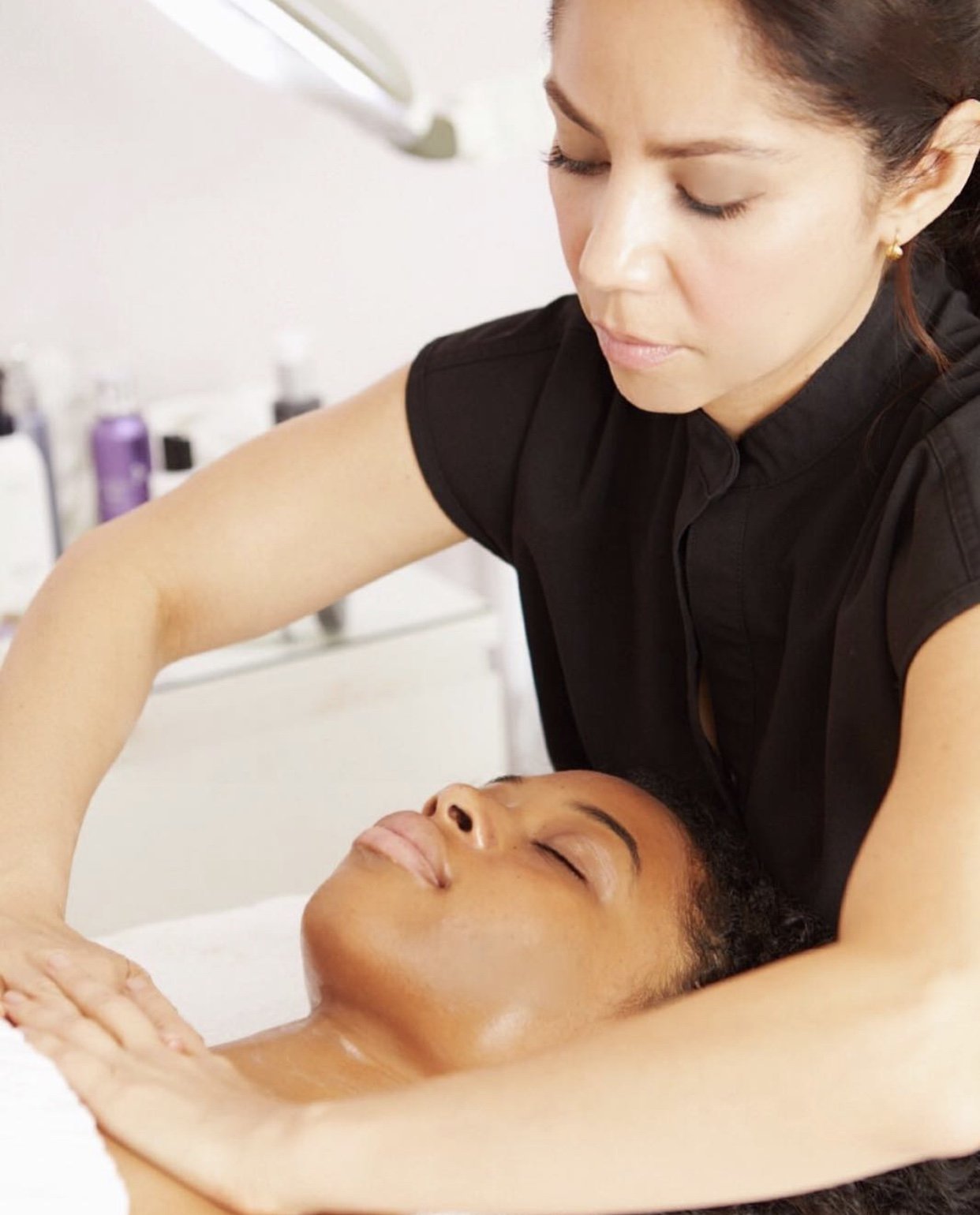 Doors Shut at Claudia Colombo, Lights On FIVE Practice
By staying connected to her eponymous skin wellness clinic's clients, cleaning up her NYC neighbourhood and looking out for the homeless, Claudia Colombo has managed to maintain gratitude, prioritise health and shift perspective during the coronavirus pandemic.
Claudia Colombo is a licensed master aesthetician, holistic nutritionist, clinical aromatherapist and wellness advocate, whose NYC clinic was nominated for this 'Doors Shut, Lights On' entry by Nathalie Hudson, co-founder of Dante NYC. 
By staying connected to her clients, cleaning up her neighbourhood and looking out for the homeless, Claudia has managed to maintain gratitude, prioritise health and shift perspective during the coronavirus pandemic.
Tell us about Claudia Colombo Skin Wellness
I'm a 21st-century skin specialist, with more than two decades of experience spent mastering a wide range of modalities, extending from paramedical aesthetics to nutritional health, yoga and mediation. I draw from all my teachings and life wisdom to assist my clients in achieving vibrant health and skin. I believe that overall health and well-being is where true beauty begins. I've been in private practice for 17 years, offering a unique selection of treatments and therapies relying on both science and nature to help facilitate the best results. I also provide a safe haven, a quiet escape and a place where they can feel renewed motivation and positivity and be reminded to get back on track after our sessions. I also offer guidance on the best products and protocols for their unique concerns.
How has the coronavirus affected your work and what is your current situation?
With a heavy heart, I closed the doors to the studio March 13th after seeing a full day of clients. I knew after receiving a ton of cancellations beginning that day for the upcoming weeks that it seemed like the right thing to do. Shortly, after closing, a mandate to have all appearance enhancement businesses close was passed. I'm booked 3 months in advance and the stress of having to cancel/ rearrange all these appointments was overwhelming, not to mention upcoming events, classes, photo/video shoots and appearance schedules. Then came the flood of emails from everyone –accountant, financial advisor, banks, clients, business associates, retailers, and filling out grant/loans forms. I knew some things needed immediate attention but others could wait; I paced myself for my own sanity and well-being. I got all my "ducks in a row" to be able to hunker down with some peace of mind, then I could reach out in a positive healthy way to my community and clients. I took a step back and gave myself time to unwind and check in with myself. I stayed quiet for a bit socially and it gave me the opportunity to feel all the emotions coming at me all at once. I reset and refreshed... after the first one or two weeks, I felt calmer and at ease—it was time to address the BIG ELEPHANT IN THE ROOM.
In my quiet alone time, I have two dogs that I take for long walks. Along the walks, I bring a big bag and we pick up garbage to "clean up" the city. Now that garbage includes picking up gloves and masks. We have a new problem—forget the straws and cigarette butts. I also try and remember to bring change and some food to give to the homeless. With less people being out, our homeless are suffering and hungry. I've also donated blood, masks and gloves. It's terrible to feel helpless but we can all do something to help our communities in one way or another even if we aren't on the "frontlines" at the hospitals. We can be kinder to ourselves and our neighbours.
Have you been able to remain connected to your clients?
Absolutely! I've been grateful for the extra time to work on my blog and newsletters and other projects that will be launching later this year. I stay connected to support my clients' well-being. I've been sending one weekly or bi-weekly newsletter with skin tips and wellness tools and links to my blog, which offer more detailed information. I've been offering virtual skincare and health coaching for quite some time, mainly for clients outside the US or out of state that cannot see me in my studio. Now, my regulars have signed up too and we continue guidance with their at-home facials and skin regimens. We also go over ways to manage their stress, which is really the same support but just not the hands-on touch, although I miss touching and providing hands-on service. I am enjoying these because it allows my clients to become more gentle with themselves; reminding them how to slow down their breath, be kinder, how to touch their face in a gentle, loving way. This is quite powerful! I'm offering one-hour sessions for the price of the half-hour over FaceTime, Google Meeting or WhatsApp.
The shipping and online services continue to be the same. I just don't have the same help with my assistant not being around, I'm doing everything myself. I've had to reroute all the packages to my apartment since the studio is closed and my commercial space business centre closed too. I completely rearranged closets and my home to accommodate a small office, treatment room, supply and packing warehouse and gym. I ship two times a week to offset the times going out and exposure at the post office and FedEx.
I'm active on social media and post inspirational and educational videos and content. I've gone on Instagram Live to do a breath, movement and meditation class and talks about skincare products, modalities, tool and tips to help calm the nervous system, the connection between tight hips and tight jaw and emotional pain and how that can show up on your skin. This was very popular and had a great response which resonated for many of my followers and clients.
How have your clients reacted?
My regular clients have been so supportive and appreciative of me staying connected to help guide them during this time. I feel such a connection as many of these people are like family to me; I've known most of my clients for 15-20 years. In my initial formal email addressing our circumstances, I received an amazing response, even with clients I haven't seen in years. I'm happy to support anyone who needs healing and guidance. It was humbling to receive messages saying that after all the emails they received concerning coronavirus and closing down, mine was the most comforting with a well-executed message. They deeply felt relaxed, at ease and felt my positive energy. I knew this is why I had to step back, recharge and then execute to be of service in the right way. I get emotional every time I think about it.


Have there been any positive learnings or lessons so far?
On my journey and life experience when dealing with crisis, if I shifted the perspective and became an observer rather than a participant in the chaos around me, I became clearer and calmer, more rational. I know now how critical it is to make our health a priority during any challenge. You can only truly focus on this when you're calmer. You can reach out with kindness and compassion to influence those around us in a positive way. With so much uncertainty, people need support, empathy and hope, and in the words of Deepak Chopra "gratitude is the ultimate intelligence"—there is always a lesson and blessing. Humanity was recovering from an existing state of being overwhelmed that most of us including our Earth needed a big pause from. It's been a gift of time—although unfortunate that it had to be under these circumstances—for us to stop, breathe and slow down.
If you had to pick one, which treatment would you recommend and why?
I honestly love all my treatments for many different reasons. It all depends on what the person needs at that time of session as everything is completely customized. However, I think my Master Cleanser—it's the ideal antidote for stressed-out skin and mind. It's a lifestyle treatment that combines the attributes of a performance facial, natural therapies and ancient healing modalities. Give me one person that doesn't have their nervous system in a frenzy right now?
Which treatment techniques can we implement at home?
Lymphatic drainage with self-massage; facial, neck, shoulders, feet too; facial gua sha; centring with a breath meditation. All will stimulate cleansing, healing and engaging the parasympathetic nervous system.
What would you say to other small businesses at the moment?
Remember your why! Getting creative in times of crisis and adapting to unique opportunities can set you apart. Be resourceful. It's a great time to look at your businesses through a macro lens. See what was working and move on from the failures. Focus one day at a time and on the project at hand. Reinvention is exciting!
As a reminder to my industry in particular, research and history prove that we cannot thrive without touch. The nourishing part of what we do and engaging this human experience will never be cancelled!
Which local business could you not do without?
I'm excited to pass the spotlight to FIVE practice—the founder Danielle and I are kindred spirits. We have a similar philosophy and deep understanding of yoga and wellness; how movement and breath connect us and can change the cells and state of our body. We need this now more than ever.
How did you first come across it?
I'm a fan of hydrotherapy circuits—hot/cold plunges. I encourage all my clients to explore and try this. I heard about the WIM HOF method and wanted to explore it deeper when a client suggested I try Danielle's class. I loved her, the class and the method.
Do you have a favourite memory from going there?
Danielle reminds me of how resilient I am and the mind is where we need to start to change the state of our well-being. It's not easy getting into the ice. Her soothing manner and calmness get you through it.
Any parting top tips for when we can go there?
This is more than a yoga/fitness studio. It's a lifestyle movement and I think it will be a great place to visit after lockdown is lifted and they can reopen. Make sure to reserve your spot ahead of time. As soon as the green light hits, people will be running to sweat it out on the mat and take the plunge into the ice. I'll race you there.