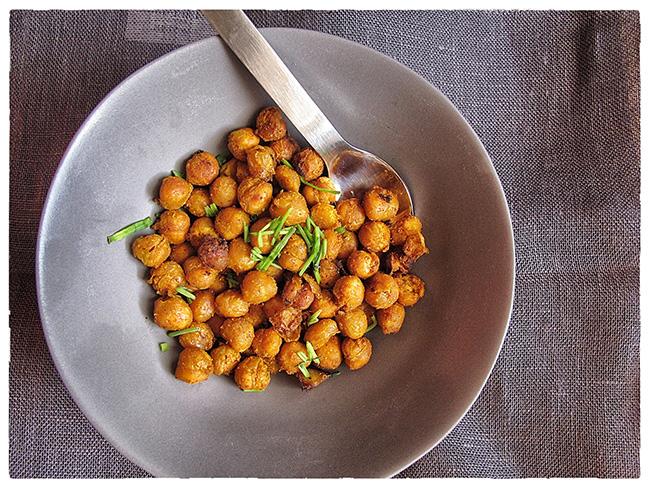 Good Mood Food #5 | Dana James
Founder of Food Coach NYC and nutritionist Dana James shares her crunchy curried chickpea recipe for a satisfying and nutritious whole-food approach to snacking.
Dana James, MS, CDN, CNS, is a Columbia University educated, triple-certified nutritionist who is also trained in cognitive behavioural therapy. She founded Food Coach NYC, a functional medicine nutrition practice that helps correct biochemical and psychological imbalances through nutrition intervention and psychological exploration.
Dana identifies stress playing a role in changed eating habits, citing collective uncertainty and boredom leading to overeating. "Stress alters your neurotransmitters by suppressing serotonin and dopamine"—the mood-regulating chemicals. "The quickest way to bolster these neurochemicals is through sugar but it's a momentary spike before it decreases again," says Dana, explaining why we might feel temporary stress relief before it creeps back up on us again.
To avoid the sugar spike, Dana's crunchy curried chickpea recipe offers a satisfying and nutritious whole food approach to snacking: "A half can of chickpeas has 10 grams of protein, 7 grams of fibre and 21 grams of net carbohydrates. Plus, they are loaded with magnesium and Vitamin B6, both which boost energy levels and improve mental clarity."

Curried Chickpeas
Ingredients
1 can of chickpeas
1 tbsp EVOO (extra virgin olive oil)
2 tsp curry powder
1 tsp turmeric
1 tsp garlic powder
1 tsp ground cumin
pinch sea salt
1 tsp fresh thyme, chopped

Instructions
Preheat the oven to 400F.

Rinse and drain chickpeas. Wrap in several paper towels to absorb the water. You want them as dry as possible.

In a large bowl, mix together the EVOO and spices. Add the chickpeas to the bowl and toss to coat.

Roast the chickpeas for 30 minutes. Stir them around every 10 minutes. The chickpeas will get crisper as they cool. During the last 5 minutes, sprinkle the fresh thyme over the chickpeas. Remove the chickpeas from the oven and allow them to cool.