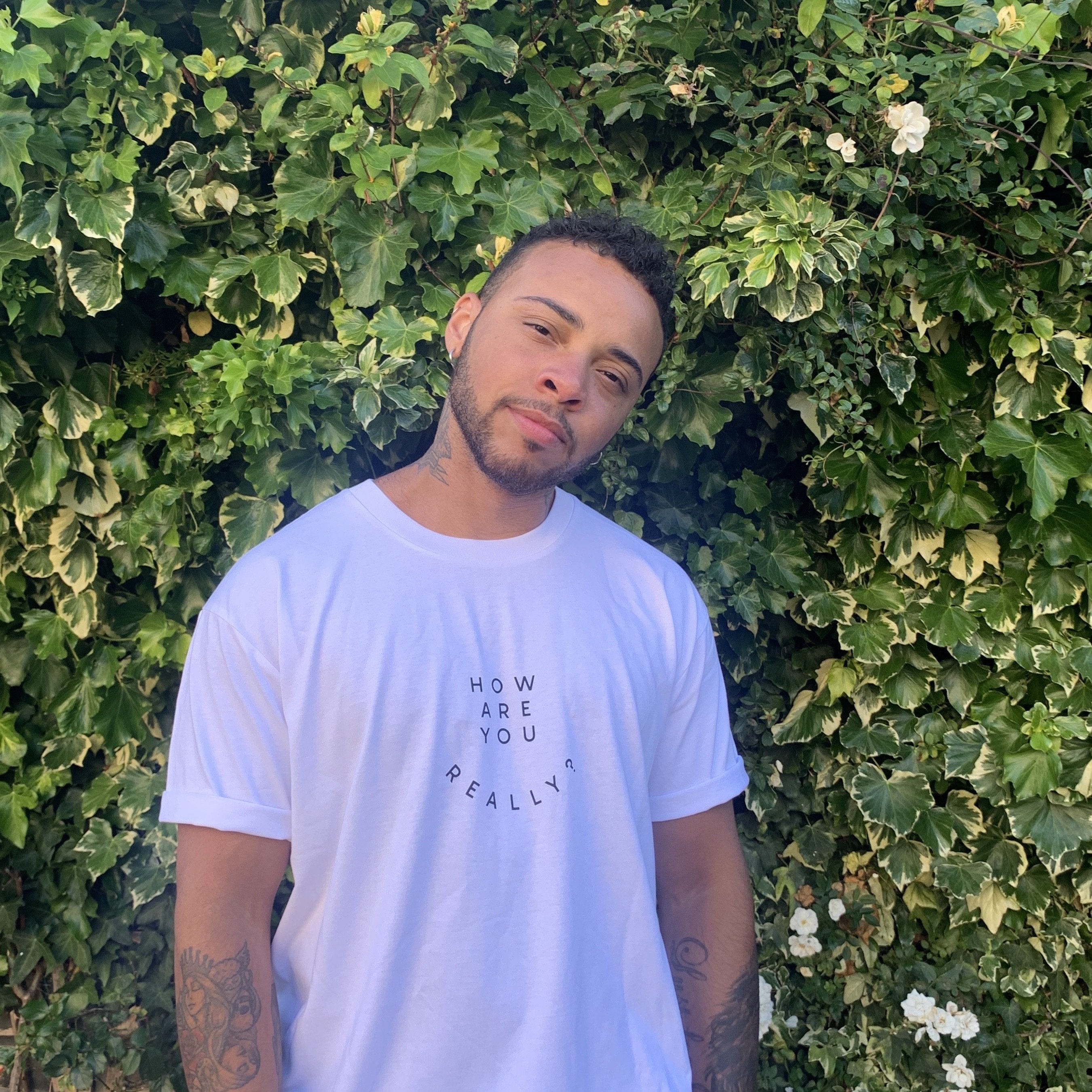 Who I Am, Really: Kenny Ethan Jones
The first trans man to front a period campaign, Kenny Ethan Jones reflects on how researching into his history of black and trans people gave him unbreakable strength.
In celebration of Pride, we invite our LGBTIQA+ community to explore the theme of past and present identity. Many people within the community have experienced a journey of self-identification, either through a transition or acknowledging their sexual orientation and sharing it with their friends and family.
Introducing the series is model, activist and entrepreneur Kenny Ethan Jones, whose activism is focused on menstruation, body politics, mental health and intimacy. He is the first trans man to front a period campaign (for Pink Parcel's I'M ON campaign), and hopes to attain equality, see trans people displayed positively in the media and create allies by engaging in open and respectful conversations about all things trans.
The discovery of me. Who was I then? 
Growing up, I was a happy, highly playful child. You could find me swinging from trees, kicking ball with the boys and stuffing my face with cabbage—I really love cabbage. My mother was my main parent and she was as supportive as they come. All she ever wanted was for me to be happy. That's all I ever wanted too. But society didn't have the same thing in mind.
Although I had my suspicions, it was at 11 years old that I realised the world didn't see me as the young boy I knew I was. This realization came in the form of a religious all-girls school, which required me to wear a blue blazer… and a skirt. I felt as if I was claimed by womanhood and destined to live a life that wasn't mine. The label 'Girl' was never me and the truth was, it was never going to be. Being known as a girl (although I would never classify myself to be one) was making me miserable. Every day I woke up to be somebody else. I felt boxed in, with my heart, body and soul boxed out: nothing but an empty vessel existing rather than living. 
I carried myself this way for as long as I could, until one day I told the one person I knew would understand me—my mum. We had a true heart-to-heart that left me with a sense of freedom and her response gave me all the reassurance I needed: "I've always wanted a boy". That conversation marked the beginning of my journey to outwardly becoming the person I (or we) always knew I was. Telling my mum my deepest truth was one of the hardest things I've never had to do. Of course, I was terrified of rejection, of what the world would think of me, how people would respond to me and how people would treat me, but there was no other way I could see myself existing. 
Living as Kenny, a man, felt nostalgic. I know this sounds like a weird thing to say considering I had never lived as a man but I felt like I had returned home, to my true being. Being trans in this climate is no easy road to follow. As I got older, navigating discrimination became difficult. I remember, specifically in employment situations, thinking "What will I be judged for first? For being trans or for being black?" It hurt. It really did. But within pain, I've always found strength. 
As sad as it sounds, you slowly adjust to the injustice you face. Once you understand that hate only comes from a person who is uncertain of themselves, you realise you have nothing to prove. I spent years working on myself, becoming radiantly confident in who I was, but not from a place of ignorance; I studied. I looked into my history (black and trans people) and I heavily researched biology to help me understand why I was the way I was. The power that came from truly knowing who I was and taking pride in that made me unbreakable. 
On reflection, everything I've ever experienced has played an important role in helping me not only become Kenny, but find my purpose in life. Identity can be tricky to define and navigate as we are always in motion, consistently discovering ourselves, peeling back layers while simultaneously trying on new things. Trust the process, freely explore, exist within and without labels and I promise you, through it all, you'll find you.  


We'll be donating 30% of profits from Friday 26th - Sunday 28th June to GLAAD plus $10 for every time the hashtag #whoiamreally is used. To get involved, use the hashtag #whoiamreally with a photo of yourself and your story of past and present identity.